Johan Simons made the diptych Ten Commandments with the NTGent ensemble and the actors of the Wunderbaum ensemble, based on the television series by Krzysztof Kieslowski and Krysztof Piesiewicz. In ten episodes, they wrap up cutting moral themes in situations as bizarre as they are recognisable, associatively based on the Ten Commandments that you might remember by heart. Koen Tachelet's adaptation respects the cinematic atmosphere of the stories and Johan Simons turns it into a moving, intimate performance.

Part I premiered on 7 September 2007. Part II and the marathon on 17 January 2009.

The performance was showered with superlatives, and won several awards. Part I was immediately selected for the Flemish Theatre Festival. The marathon was selected for the 2009 Dutch Theatre Festival. Wine Dierickx received the Columbina 2009, prize for best female supporting actor, for her roles in Ten Commandments, and the entire show received the Gouden Bouwmeester 2009 for best performance. These awards are presented by The Dutch Association of Theatre and Concert Hall Directors (VSCD).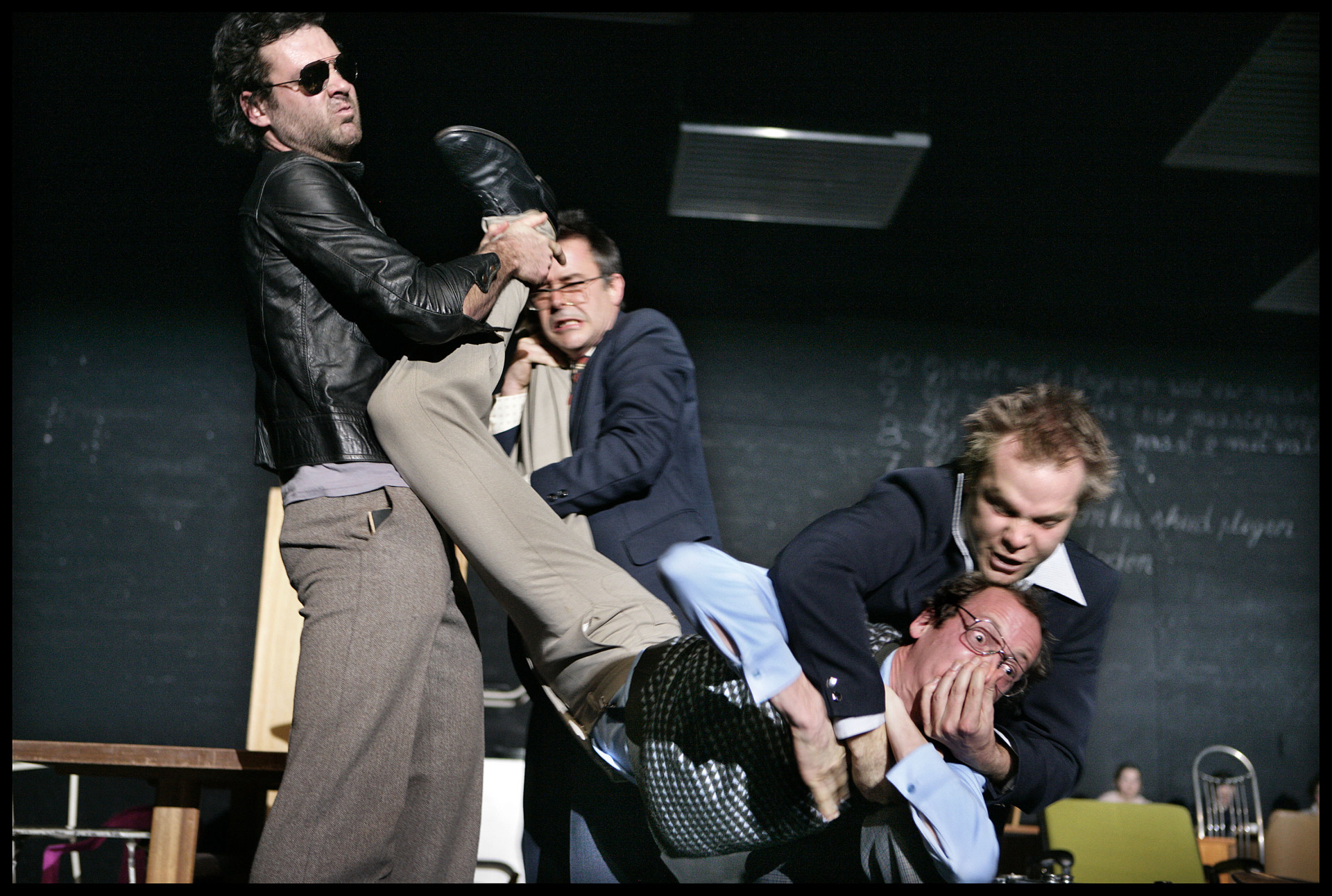 Text
Krzysztof Kieslowski
Krzysztof Piesiewicz
Acting
Walter Bart
Wine Dierickx
Els Dottermans
Frank Focketyn
Matijs Jansen
Maartje Remmers
Marleen Scholten
Oscar van Rompay
Anne Gehring
Theater aan de Parade
Den Bosch (NL)

Parktheater
Eindhoven (NL)

Schouwburg Tilburg
Tilburg (NL)

Rotterdamse Schouwburg
Rotterdam (NL)

Rotterdamse Schouwburg
Rotterdam (NL)
"Overwhelming diptych"
Parool

"Probably one of the best performances of the decade"
NRC Handelsblad

"A hit!"
VRT
"I only play roles that involve sex. Talk about typecasting," Walter Bart laughs. "Those are unfortunately not for me. As a woman over 45, I can only play old mothers and landladies," sighs Elks Dottermans."
Hans de Ruyck (Gazet van Antwerpen)
"On Saturday 24 January [2009], there will be a marathon performance covering the entire bid cycles. A long run from 4 p.m. to past 10 p.m. and virtuoso acting, with actors playing eight to ten different characters. "This is great fun. Imagine playing the same people for six hours," Dottermans quotes."
Hans de Ruyck (Gazet van Antwerpen)