La codista is a personal piece about identity and the desire to slow down sometimes.
When he lost his job, the Milanese Giovanni Cafaro began waiting in line for others in exchange for money. The actress Marleen Scholten used his story as a basis for her monologue La codista. It turned into a story about waiting in line ('la coda'), about putting yourself in someone else's shoes and about the impatience and desire that is a part of waiting. La codista waits her turn together with the audience.
I do not want to be first but rather last. The faster the world moves, the more I slow down. I go against the current. Like salmon. For a 'codista', the world is the other way around.
Scholten lives in Italy and for this project she interviewed various Italians about how they experience standing still and what it means. In addition, the actress stood in line for hours, for example at the post office or the tax office, in order to experience for herself the mechanism of waiting. She found chaos and simplicity there, people coming together someplace with only one purpose: waiting their turn.
Scholten was awarded Italy's Antonio Conti national playwright's prize for the piece and La codista has been selected by the Toneeljury for the Dutch Theater Festival 2022.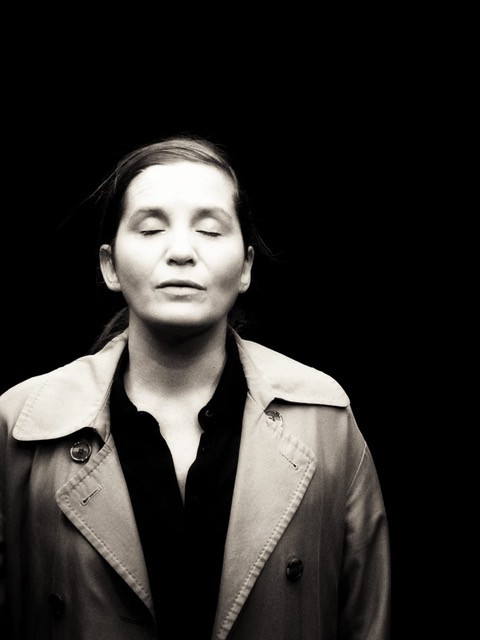 Production manager
Acteursgroep Wunderbaum
Associazione TRAK
Residence
OTSE Officine Theatrikes Salento Ellada
in cooperation with
Embassy and Consulate General of the Kingdom of the Netherlands
With the support of
Centro di Residenza della Toscana
Kilowatt festival
Special thanks to
Giovanni Cafaro
Paolo Aniello
Pietro Valenti
Paolo Mastromo
Bas Ernst, Umberto Angelini
Zona K-Milano
NTGent
Liesje Schreuders
German translation
Andrea Theresia van Dingstee
Upcoming dates
20:30

Stadsschouwburg Utrecht


20:00

Grand Theatre
Groningen
Edinburgh Festival Fringe


Edinburgh Festival Fringe


Edinburgh Festival Fringe


Edinburgh Festival Fringe


Edinburgh Festival Fringe


Edinburgh Festival Fringe


Edinburgh Festival Fringe


Edinburgh Festival Fringe


Edinburgh Festival Fringe


Edinburgh Festival Fringe


Edinburgh Festival Fringe


Edinburgh Festival Fringe


Casa del Contemporaneo, Sala Assoli
Napels (IT)

Casa del Contemporaneo, Sala Assoli
Napels (IT)

Casa del Contemporaneo, Teatro Ghirelli
Salerno (IT)

Casa del Contemporaneo, Teatro Ghirelli
Salerno (IT)

Made In Germany
Stuttgart (DE)

Musis Stadstheater
Arnhem

ITA/ Nederlands Theaterfestival
Amsterdam

Frascati
Amsterdam (Italiaans met NL boventitels)

Theater a/h Spui
Den Haag, GEANNULEERD

Theater Rotterdam
locatie William Boothlaan 8 (Italiaans met NL boventitels)

Theater Rotterdam
locatie William Boothlaan 8

Teatro Magro
Mantova (Italië)

Theaterhaus Jena
Jena (Duitsland)

Theaterhaus Jena
Jena (Duitsland)

Theaterhaus Jena
Jena (Duitsland)

Theater Rotterdam (Italiaans)


Theaterhaus Jena
Jena (Duitsland)

Theaterhaus Jena
Jena (Duitsland)

Kilowatt Festival
Sansepolcro (Italië)

'Holland Festival - Frascati
Amsterdam'

'Holland Festival - Frascati
Amsterdam'

Triennale Milano
Milaan (Italië)

Triennale Milano
Milaan (Italië)

FIT festival Lugano
Teatro Foce (Zwitserland)

Castrignano de Greci
Puglia (Italië)

Castrignano de Greci
Puglia (Italië)

Castrignano de Greci
Puglia (Italië)
"Wonderful jewel"★★★★⁠★⁠ (NRC)
"Scholten does it exemplarily for an hour: with her beautiful, powerful voice, controlled mimicry and infectious charm, she portrays an unemployed woman who makes a virtue of necessity" (Volkskrant)
"Marleen Scholten is pitch perfect : she delivers her narrative with charm, wit and is a fine story-teller" (Edinburgh Fringe Review 2023)
"Remarkable acting makes all this philosophising feel fascinating and twisty, which is no small feat: in less skilled hands, an hour of waiting would surely feel interminable. A bold gambit from a bold performer, La codista knows that time is money. It doesn't waste a second." ★★★⁠★ (The Scotsman)