Jonghollandia has only been around for a few years in 2002, but is already known for its numerous location projects.

For their performances, the five actors often step outside the walls of the usual theaters to settle down in special places in both Belgium and the Netherlands.

Pixels (the spirited courage of the elements), for example, was a performance that played at Universities of Technology.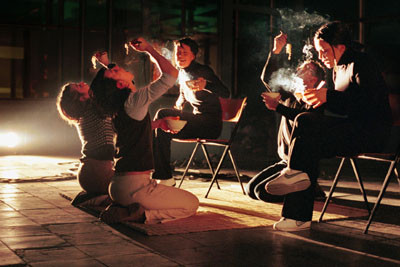 By and with
Walter Bart
Wine Dierickx
Marleen Scholten
Yonina Spijker
Maartje Remmers
Matijs Jansen
Set and lightdesign
Bart Verzellenberg
Maarten van Otterdijk
Agora - Vrijhof Cultuurcentrum
Twente (NL)

Agora - Vrijhof Cultuurcentrum
Twente (NL)

Agora - Vrijhof Cultuurcentrum
Twente (NL)

Technische Universiteit
Eindhoven (NL)